In the past, I managed to setup a ESP8266 to receive signals from my remote, see also Flamingo sf-501 remote - Compatible devices - OpenMQTTGateway
Yesterday I wanted to use the pre-compiled "nodemcuv2-rf" from the web installer ((Option 1) Upload from the web | OpenMQTTGateway v1.4.0), but I could not get it working with my remote.
After some debugging, It appears that I MUST use GPIO 5 (D1) to receive signals. If I want to use the default GPIO 0 (D3) I do not receive any signal at all…
So my questions:
is this problem specific to my hardware? (Wemos D1 Mini Pro V3.0.0)

Is there a way to use the pre-compiled versions but with other pin layout? Some "afterburn" or "slipstream" of something like that?

If I need to compile the code myself: Is there a way to have the same user experience afterwards? I mean: I can change the GPIO in the code, compile and upload the stuff to my device. But (till now) I had to hardcode my wifi and mqtt settings. However, I want to give this device to my friend and I don't (want to) know these settings. The temporary webinterface to set wifi and mqtt is great but I did not succeed to only change the GPIO and upload the code. Seems that the webinterface is broken than… Probably I'm doing something wrong, but don't know what.
working setup: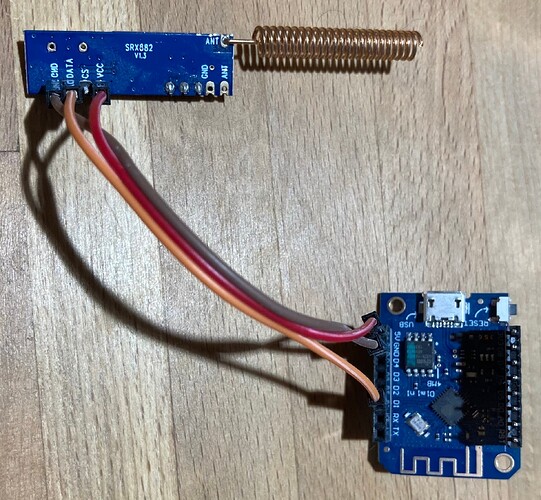 grtz
B