Hi,
I'm relative new to this, so sorry for my ignorance…
I bought some
To get started,
I just used the D1 mini board without the IR controller shield attached
flashed "esp32dev-ble-firmware.bin" (v0.9.8)
connected to my wifi and mqtt broker
and I saw (ble) messages coming in.
So far so good.
Now
I attached the IR Controller Shield to the D1 mini ESP32 in following way
ESP32 TXD <–> IR TX
ESP32 RXD <–> IR RX
ESP32 GND <–> IR GND
ESP32 VCC <–> IR 5V
ESP32 RST<–> IR RST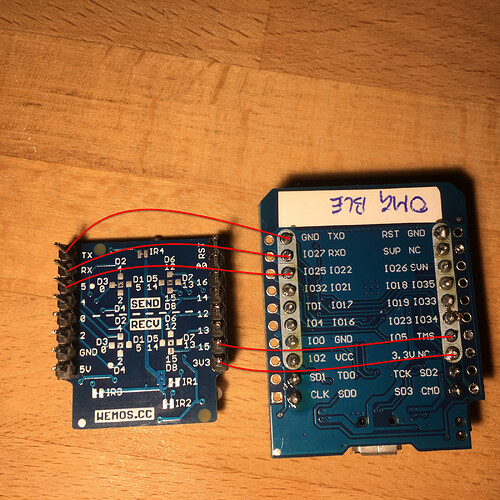 (note that ALL pins of both devices are connected. Picture above is just to clearify wich pins are connected to each other)
Than
I flashed the device with "esp32dev-ir-firmware.bin"
connected to my wifi and mqtt broker
but NO ir-messages are comming in.
So next step
Because all this was my first time, it took my a whole sunday afternoon, but it was fun!
However, I would like to working configuration


I suppose I have to make some modification to the pinouts, but have no clue were to start…
So my questions:
have I connected the both devices correctly?
what do I have to do to create an OMG IR-receiver with those components
I found some information on
but this is for an ESP8266 board.
any help is appreciated
and thanx for your patience in advance

grtz
B